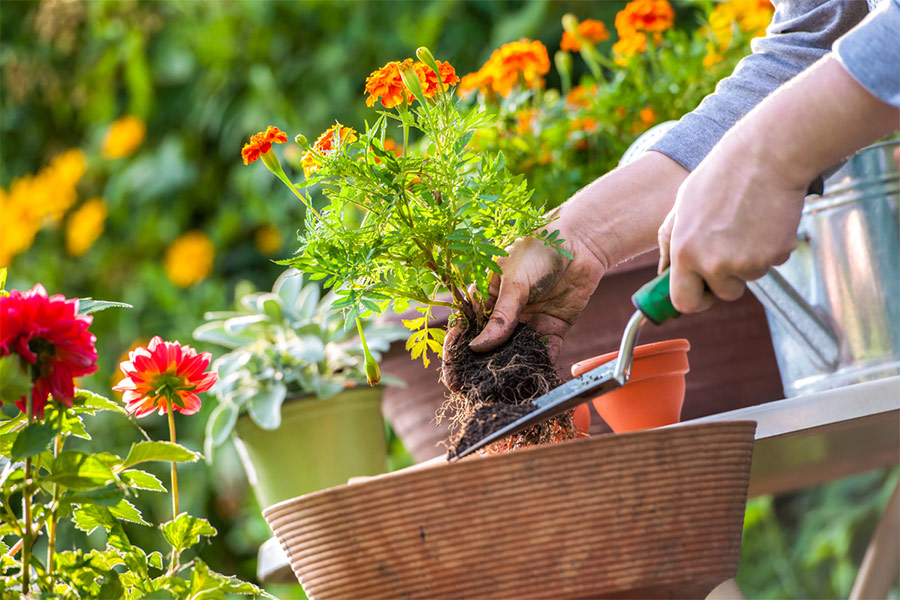 24 Jul

Staging your outdoor spaces

As the lock down restrictions ease and life starts to slowly return to normal for most people, we as estate agents have been inundated with valuation requests, enquiries for homes and properties coming to market. The housing market reopened in May and it has been non-stop ever since, and with the Chancellor's Stamp Duty holiday announcement, the market has gone into overdrive.

All this activity is obviously a great thing; it means that the economy can recover quickly and people who might have been stuck in their properties can get moving.

We've touched upon how to prepare your property before coming to market before, but now we're concentrating on how to make your outdoor spaces attractive to potential buyers to help you get the best price for your property, quickly.

Remember, if you are thinking of buying or selling in the area, make sure that you get in touch with a member of our team to talk through your options. You can call us on 01753 683000 or email us.

AT THE FRONT

First impressions are forever

Whether you or your potential buyers are green fingered or not, the image of a freshly mowed lawn and neatly trimmed shrubs is appealing and gives the best first impression on approach to the property.

It's good practice to put yourself in the buyers' shoes. Kerb appeal will have a big impact on how a viewer will view the rest of the property so it's important to make sure it is well-kept to show that the property in which they're interested is well cared for.

If you're selling in the autumn or winter, make sure that your front garden is clear of litter and leaves; if it's starting to get dark early in the evening make sure your front areas are well lit.

Colour and clean

Make sure your windows and any exposed surfaces are clean; if you have a driveway it might be a good idea to jetwash it to clear any moss or grime. Window boxes and hanging baskets will brighten up the front of your home and they are relatively inexpensive to buy and install. For sunny areas, geraniums are perfect, they're also reasonably low-maintenance; and if you have shady spots, ferns can be the ideal way to smarten up your window sills.

The Bins

Let's face it, refuse bins are ugly; they are however, very necessary. They are cumbersome and take up more room than you'd ideally like. If you are unable to hide them away during viewings, at the very least you should line them up neatly and out of the way if possible. If you have the space and inclination, there are some cost effective ways to create a storage space specifically to keep your bins out of sight.

OUT THE BACK

Staging your back garden

Not all garden spaces are created equal, but you can make the most of the space you have by making them tidy. We're not talking highly manicured lawns and shrubbery, but a garden which is neat and tidy can be really pleasing to the eye.

Stage your garden furniture as if you are arranging your living room furniture, the idea here is to make potential buyers imagine themselves in the space. It's a positive sign if the buyer can envisage themselves living in the house, so make it easy for them.

Go to pots

Flower pots are a great way to add colour and variety into your garden, especially if you don't have extensive flowerbeds or green areas. If you have decking or a patio, the introduction of a few brightly flowered pots can break up neutral colours and make the area feel more homely and well-kept. Make sure they're arranged in a tidy manner as too many pots scattered haphazardly can have the opposite effect.

Outdoor spaces in apartments and flats

Perhaps you live in a flat or apartment with no garden so to speak. If you have a balcony then you can stage it in a similar manner. Strategically placing window boxes and potted plants/flowers can make a balcony space feel much more natural and coupled with a small bistro set can be a nice place to spend the evenings. If you are in a flat without a balcony or any outdoor space, consider some window boxes on certain windows, this can give the illusion of greenery just outside your window and bring colour in to the space.

Get in Touch

Remember, as the leading independent estate agents in Colnbrook and the surrounding areas we are location experts and are always happy to talk you through your property options. You can contact us on 01753 683000 or email us. You can also follow us on Facebook,  LinkedIn and Instagram.